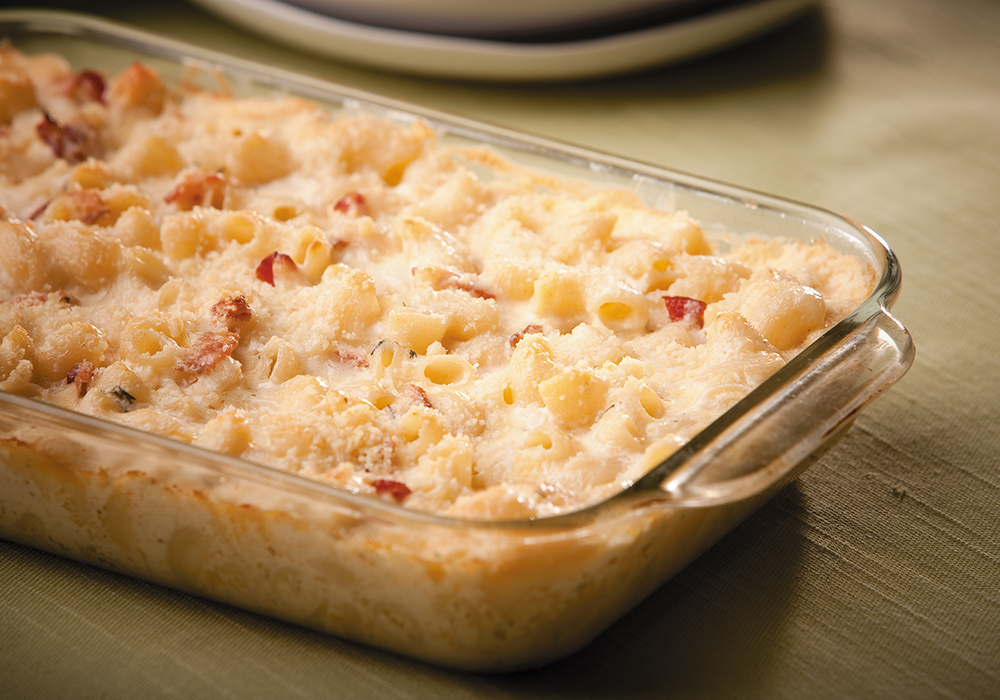 ½ package of bacon
1 Tbsp. of butter
1 medium white onion, minced
1 ½ cup evaporated milk
1 cup mozzarella cheese, grated
¼ cup parmesan cheese, grated
8 oz cream cheese
1 cup heavy cream
1 Tbsp. fresh thyme
Salt and pepper to taste
1 pack of Elbow Princesa
½ cup Parmesan cheese, grated
Dice the bacon and cook over medium heat in a hot skillet until golden brown. Remove and drain on paper towels. Reserve.
Drain the skillet and add the butter. Saute onion over medium heat until translucent. Remove and mix in a saucepan with evaporated milk, mozzarella cheese, Parmesan cheese, cream cheese, heavy cream and thyme. Season with salt and pepper and set aside.
Cook the Princesa Elbow Noodles according to package directions. Drain and pour over the cheese mixture. Add the bacon and mix well over low heat for 3 minutes.
Place mixture in greased ovenproof container, sprinkle with additional Parmesan cheese, and bake for 10 minutes or until top is golden brown.
Remove from the oven and serve immediately.