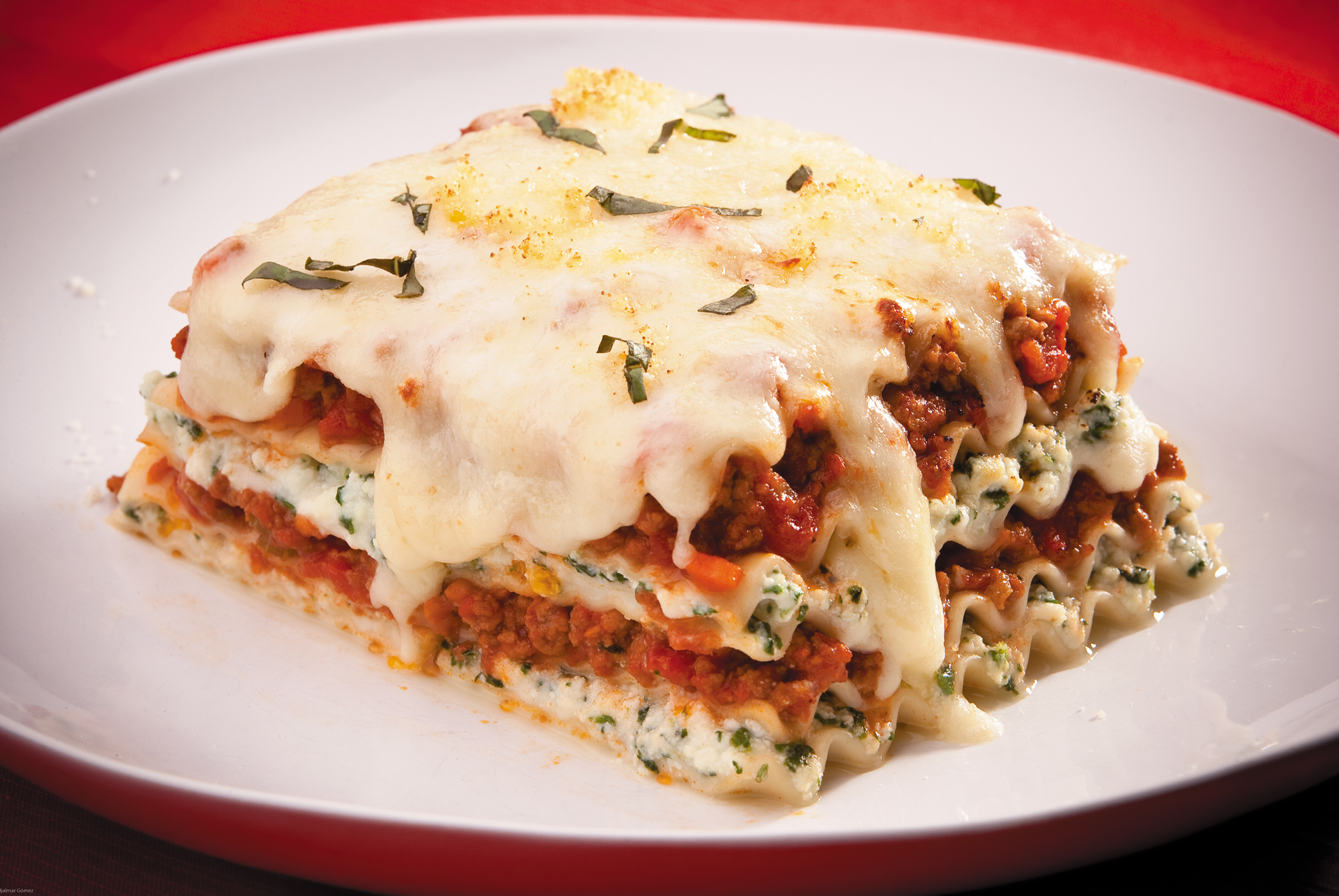 2 Tbsp. Of olive oil
1 red onion, minced
1 stalk celery, diced in cubes
1 carrot, diced in cubes
2 garlic cloves, minced
1 pound of ground beef
Salt and pepper to taste
½ cup of white wine
2 cans (28 oz) whole tomatoes, peeled
2 bay leaves
1 tbsp. fresh oregano
2 cups ricotta cheese
4 Tbsp. frozen spinach
1 cup mozzarella cheese
4 cups of Bechamel sauce
1 pack Lasagna Princesa
½ cup Parmesan cheese
For the meat sauce:
In a saucepan over medium heat, heat the olive oil and sauté the onion until translucent. Add the celery and carrot and sauté for 2 more minutes. Add the garlic, stir well and add the ground beef. Season with salt and pepper and cook for 15 minutes or until meat is cooked thoroughly. Add the white wine, stir and allow it to evaporate almost completely. Add the tomatoes with their juice, the bay leaf and the oregano and cook uncovered for 20 minutes; in the meantime, defrost spinach, drain well and mix with the ricotta cheese. Reserve.
Cook the Princesa Lasagna according to package directions. Drain and place in cold water to stop cooking. Grease a refractory container and pour a little of the Béchamel sauce on the bottom. Place the lasagna sheets until the bottom is covered, and add half of the ricotta and spinach mixture, spreading well throughout the bottom. Cover with more sheets of lasagna, place half of the meat sauce, a little of the Béchamel sauce and ½ cup of the mozzarella cheese. Cover with more sheets of lasagna and repeat the process with the rest of the ricotta mixture, the meat sauce, and finish with more sheets of lasagna. Top with the rest of the Béchamel sauce, and the Mozzarella and Parmesan cheeses. Bake for 30 minutes, covered with aluminum foil. Remove the foil and bake for 15 more minutes. Remove from the oven and allow it to rest for 10 minutes. Serve with chopped basil on top.