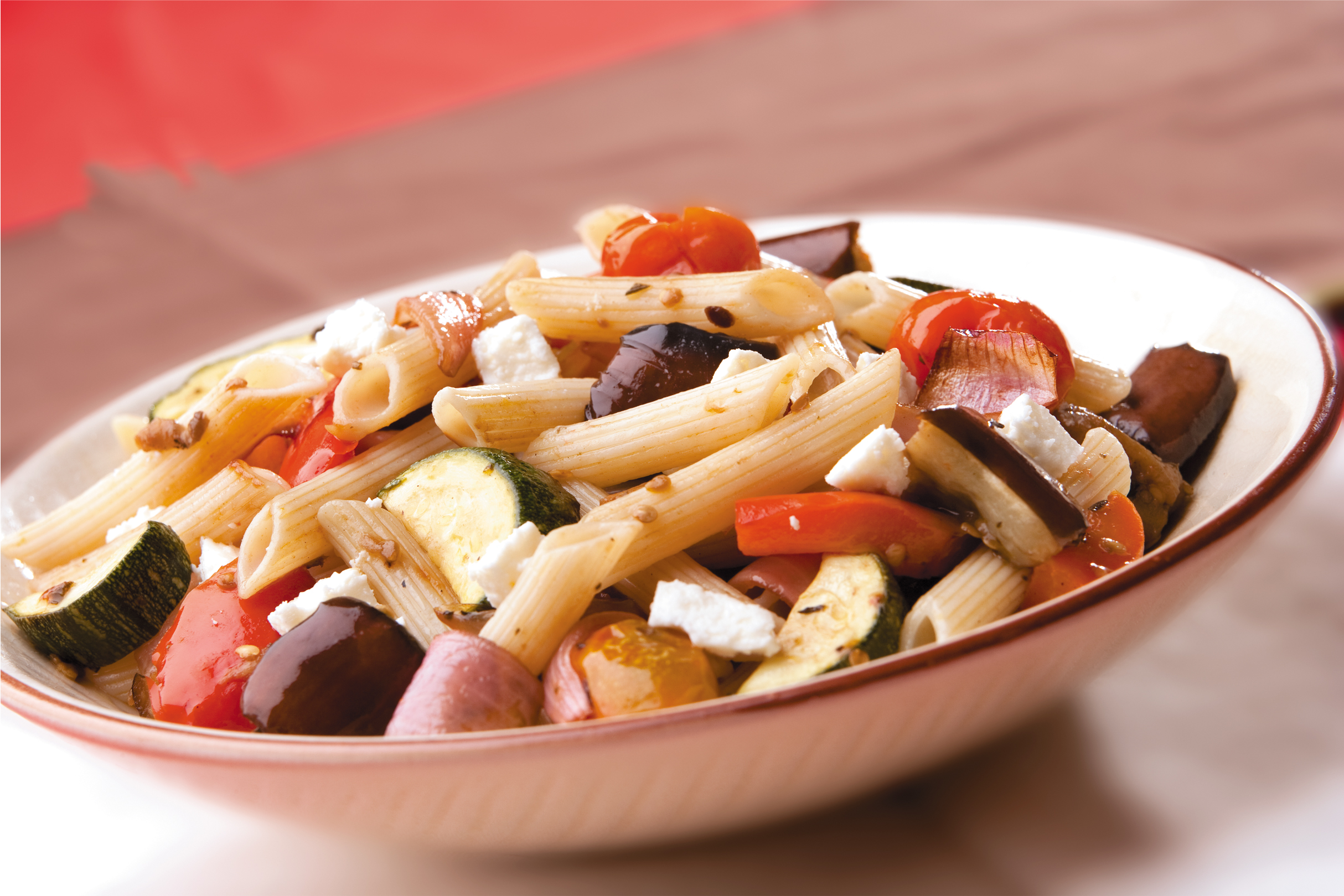 4 tbsp. Of extra virgin olive oil
2 tbsp. Of balsamic vinegar
2 garlic cloves, mashed
1 tbsp. Of fresh rosemary, minced
1 Chinese eggplant, washed and sliced
1 medium red onion, cut into six
12 cherry tomatoes, washed and cut in half
2 red bell peppers, cut into chunks
2 washed zucchinis, cut into thick slices
Salt and pepper to taste
1 pack Mostacholi Princesa
1 tbsp. Of fresh parsley, minced
1 tbsp. Of fresh thyme, minced
1 tbsp. Of fresh basil, minced
½ pound of feta cheese, crumbled
Mix the oil, vinegar, garlic, and rosemary in a bowl. Place the vegetables on a baking sheet and season with salt and pepper to taste. Spray the mixture of oil and vinegar over the vegetables and mix well. Bake for 15 - 20 minutes, stirring occasionally, until vegetables are roasted. Meanwhile, cook Mostacholi Princesa according to package directions. Strain and run through cold water to stop cooking. Reserve.
de aceite y vinagre sobre los vegetales y una todo bien. Lleve al horno por 15 – 20 minutos, moviendo de vez en cuando hasta que los vegetales estén asados.
Mientras tanto, cocine los Mostacholi Princesa según las instrucciones del empaque. Cuele y pase por agua fría para detener la cocción. Reserve.
Remove the vegetables from the oven and mix with the reserved Mostacholi Princesa, parsley, thyme and basil. Mix everything well and adjust the salt and pepper.
Serve drizzled with feta cheese.